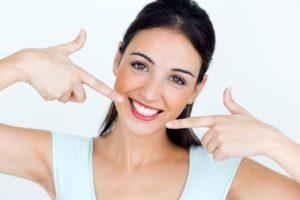 At the beginning of every new year, it's worth setting a goal for yourself to achieve by the time you're watching the ball drop on New Year's Eve once again. Whether you're trying to improve your self or volunteer to help those around you, it's a great tradition people across the country embrace. So, for this year, why not focus on improving your oral health and smile?
With help from your dentist in Marion, making a resolution is as simple as taking a moment to read an article. Let 2018 be the year you make a positive change for your smile.
Taking Better Care of Your Teeth
One of the easiest resolutions you can make for you oral health is making sure you stick to your daily habits. This means brushing twice a day with a fluoridated toothpaste and flossing once a day. It also means making it to your dentist every six months for your dental exam and professional cleaning.
By making these habits part of your daily routine, you'll already be well ahead of most people. Many people don't even make it to their dentist once a year let alone twice, so doing so will protect you from underlying gum disease and tooth decay effectively. To be extra thorough, consider adding a mouthwash to your regimen to strengthen your tooth enamel and give you fresher breath.
Fix Your Smile with Orthodontics
If your teeth have become crooked over the years or your bite has become misaligned, getting it fixed would make a huge impact on your oral health. Crooked teeth more difficult to clean than straight teeth and a bad bite can place additional stress on your temporomandibular joint, causing jaw pain. You're also more likely to grind your teeth when your bite is misaligned.
If you have severe misalignment issues, you may want to consider traditional braces as these are incredibly effective. However, if you are older and would like to be more discreet about your realignment treatment, you could benefit from the faster Invisalign process instead.
Make Your Smile Look Better Than Ever
While maintaining your oral health is important, you may need to solve some issues via cosmetic methods instead. These issues include be either discoloration of your teeth surface or chips and cracks resulting from an accident. That's where teeth-whitening, porcelain veneers, dental bonding, and many other treatments from your cosmetic dentist in Marion come in.
If you have multiple treatments in mind, you can participate in what is called a smile makeover. This is a predesigned plan for how you want your smile to eventually look like. You'll have a consultation with your dentist so they can give their professional opinion and offer the best treatments for your makeover.
Make caring for your smile part of your new years resolution. You'd be surprised by what you can accomplish with your dentist in Marion. Schedule an appointment with them today to learn how to improve your smile!
About the Author
Dr. George Burner earned both is bachelor's and master's degree at Ball State University. He then went on to earn his Doctor of Dental Surgery degree from the Indiana University School of Dentistry. He's been practicing dentistry for 35 years since then. To learn more about his practice, contact him at (765) 613-3128 or visit his website.