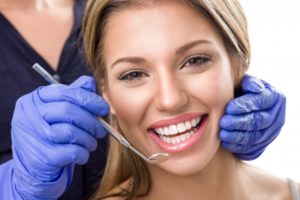 If you're looking for a new dentist in Huntington, the best way to make your search easier is to find a dentist that stands out from the rest that are available in your neighborhood. You need a practice that pays close attention to your needs, always uses the most advanced technology, and ultimately respects and values your time. Learn more about why you should consider choosing our local practice to call your dental home compared to your other local options in this week's blog post.
Here at Bruner Dental, We're Committed to Creating Positive Dental Experiences
There is one thing that other practices may look over that we make sure is a priority: creating a positive experience from the minute you walk into our office. Instilling positive dental experiences ensures that patients will trust their dentist in the future and that they will continue to receive the oral health care their smile's truly need.
Our commitment to excellence is clear cut and easy for patients to understand—so feel free to hold us accountable!
We're committed to practicing with modern technology.
We will always pay attention to your specific needs, providing personalized dental services.
Our office will only provide relevant advice and service recommendations that meet your needs.
We are here for you during emergency dental situations as well.
You can visit our office knowing it's a judgement-free zone to receive the care you need and address any level of dental care concerns.
Our Office Isn't the Typical, Boring Dental Environment
You won't have to drag your feet about visiting our practice as many patients actually look forward to seeing us! From the moment you step in our office, you'll be greeted by one of our friendly office members. Once you visit us again, you'll always be welcomed by name, feeling like a true member of our dental family.
Since we're committed to offering the best dental services, your dentist will work with you one on one during your appointment to address and explain your potential services and the actual concern that may be causing your dental discomfort.
At the end of your appointment, you'll feel confident moving forward with your dentist because you know what's going on with your current oral health, how to improve it, and exactly what your treatment or procedure entails.
If you're still undecided on choosing your perfect dentist for you or your loved ones, feel free to give our office a call. We would love to meet your and your family members for the first time!
---
Meet Our Dentists
Our office believes in offering you options—which is why we have a team of dental experts for you to choose from. Dr. George Bruner, Dr. Christine Root, Dr. Clifford Sneed, and Dr. Elisheva Tinsley all bring something unique to our office, creating a variety of experts to choose from that will make you feel the most comfortable. If you would like to meet one of our four dental professionals, feel free to give us a call today!