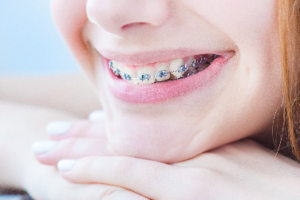 When undergoing an orthodontic treatment, you are well on your way to a healthier, more attractive smile. To promote the results of your treatment, it is best to take the time to care for your oral appliance every day. No matter if it is fixed or removable, your orthodontist in Marion will recommend that you clean it properly. This will not only help to protect it from damage, but also to keep your teeth and gums healthy while on your journey to an improved smile.

Cleaning Fixed Orthodontic Appliances
A fixed orthodontic appliance, like metal braces in Marion, can be difficult to clean; however, it is best to take the time to pay extra attention to your oral hygiene. If you do not care for your smile properly while the appliance is in place, it can increase your risk for tooth decay and gum disease.
To keep your smile healthy, you will need to care for your teeth and the appliance twice a day. When brushing, clean the areas between the appliance and the gum tissue. Next, brush the spaces between the appliance and the crowns of your teeth. Often, an interdental brush will make the task easier because it can fit in between the spaces, like the braces wire and the enamel.
After you have brushed your teeth, you will also need to floss. If you wear braces, this can be especially challenging. To make it easier, a superfloss can be used. Using the stiffened end of the flosser, insert it between the orthodontic appliance and the teeth. Grab the floss to wrap it around the appliance and also in between the teeth. A gentle back and forth motion is best to remove plaque and food debris from around the appliance and between the teeth.
Cleaning Removable Orthodontic Appliances
Removable orthodontic appliances are easier to clean, such as Invisalign aligners and retainers. After removing it from your mouth, brush and floss your teeth as you normally do. Then, use a soft-bristled toothbrush and a clear antibacterial soap to clean the appliance. This will remove harmful plaque and bacteria to protect your oral health while eliminating unwanted odors.
If you are not putting the appliance back into your mouth after cleaning it, be sure to store it correctly. Depending on the appliance, it may need to be placed into a special solution, water, or a protective case.
Protect Your Oral Appliances
With the right care, you will help to protect your oral health and promote a successful treatment. If your oral appliance should become damaged, contact your dentist right away.
About Bruner Dental
At Bruner Dental, we use advanced technologies and methods to create healthy, beautiful smiles. In addition to general dentistry, we also provide orthodontics to correct the alignment of your teeth and bite. No matter if you are interested in metal braces or Invisalign in Marion, we have the solutions you need for a straight smile. Contact our office today to schedule your consultation.