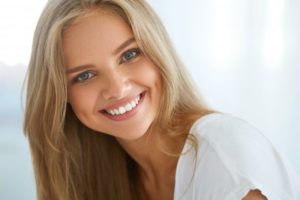 According to recent statistics, over a third of the people you meet for the first time will notice the condition of your teeth before anything else. That means someone could make a false assessment of your character because of your smile flaws. You want to improve the look of your ivories, but you're no fan of wearing metal braces and drawing even more negative attention to your teeth. Your cosmetic dentist has a solution – Invisalign in Marion! Learn about this amazing process as you read on!
Brace Yourself for Invisalign!
The Invisalign method of correcting misaligned, crooked, gapped or crowded teeth utilizes a series of custom-designed, plastic trays to gently move your teeth to the correct position. The process starts with visiting your cosmetic dentist for an examination.
Here is what the visit consists of:
First, a series of X-Rays and photos are taken of your teeth.
Your dentist will then develop a custom plan and create a timeline for the treatment process.
The information is then sent to a trusted lab that will fabricate a complete set of aligners.
How the Treatment Process Works
Once you receive your full treatment set of clear trays, you'll be instructed to wear them for at least 22 hours each day to ensure that you stay on schedule with your pre-designed treatment plan. You'll wear each set of trays for two weeks and then discard them for the next set in the series, continuing like this until the process is completed.
The Advantages of Invisalign!
The main advantage of the Invisalign method for correcting your bite is that it's discreet and convenient. Unlike traditional braces, there are no wires or brackets to contend with, and you don't have to worry about attracting undesirable attention to your mouth.
Here are two other advantages of wearing the clear aligners:
Because they are removable, there are no restrictions on what you can eat. Thus, you don't have to worry about breaking wires.
You can also perform your normal oral hygiene habits when wearing Invisalign clear trays. Therefore, you can brush and floss to ensure that your smile stays healthy as it continues to improve.
Less Treatment Time!
Not only will your clear trays provide a discreet and convenient treatment process, the Invisalign process typically requires less time than the traditional braces method. With orthodontics in Marion, you can have the smile of your dreams in 12-24 months!
To start a new era in your life with Invisalign treatment, contact your cosmetic dentist to schedule a visit today!
About the Author
Dr. Christine Root earned her dental degree from the Indiana University School of Dentistry. She then went on to complete an internship in implantology and orthodontics. Dr. Root has over 30 years of experience providing orthodontic care and helping patients smile with confidence. She practices at Bruner Dental, and she can be reached for more information through her website.