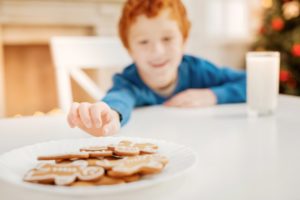 Once again, the holiday season is upon us, which means delectable treats are in abundance, and your kids are eager to indulge in them. Where does that leave their oral health, though? Is there a way to allow them to enjoy the season's delights without letting their oral health go to waste? Your children's dentist in Marion says by following 4 simple steps, you can protect their mouth, teeth and gums without denying them the joyous delights of the holiday season.
What's the Real Threat?
The reason we have to engage in this dialog is the consequences of high sugar intake, which is common over the holiday season. Your kids are surrounded by cookies, pies, cakes, super-sweet beverages and other treats that are common for this time of year, but the increased sugar intake provides sustenance for harmful oral bacteria.
As the bacteria feed on the leftover sugars and grow, they release caustic fluids that contribute to tooth decay and a host of other problems. Therefore, it's important to have a plan of action for keeping oral debris and bacteria at bay.
Tip #1 – Limit the Consumption of Sugary Products
One of the ways to keep bacteria and tooth decay under control is to set a budget for the number of sugary products your children will consume. One way to accomplish this is to set a protocol for when these types of foods and beverages will be consumed, as opposed to allowing random grazing throughout the day.
This will give your little ones' teeth a break from being bathed in sugar.
Tip #2 – Encourage Proper Oral Hygiene
Another way to protect your children's oral health is to encourage excellent and consistent dental hygiene. By brushing and flossing after each serving of candy, dessert items or sugary beverages, your kids will be able to remove the remaining particles before they have a chance to cause decay.
Tip #3 – Create a Reward System
Maintaining excellent oral health is not just about avoidance; it also involves eating the right foods. Encourage your children to consume more vegetables and fruits to prevent them from having an acidic mouth that contributes to tooth decay.
One way to accomplish this is to make the holiday treats a reward for being compliant. Thus, your kids will have a tangible incentive for being more mindful about their intake.
Tip #4 – Visit Your Dentist
A final asset available is your pediatric dentist. By maintaining regular visits, your children will experience the following benefits:
The establishment of a healthy habit
Greater prevention of oral health issues
The chance to learn more about improving oral health by talking to the dentist and oral hygienist
The holiday season is one of the most memorable times of the year, and your children should be able to sample some of the delights. With the help of your kids' dentist in Marion, though, you won't have to sacrifice their oral health.
To schedule a holiday visit, reach out today!
About the Author
Dr. Christine Root earned her dental degree from the Indiana University School of Dentistry. She has since gone on to notch over 30 years of experience caring for patients of all ages. To schedule your child for a holiday check-up, you can find Dr. Root practicing at Bruner Dental, and she can be reached for more information through her website.