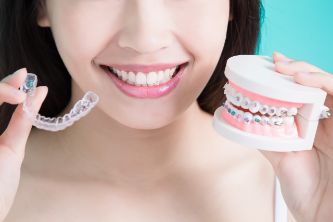 Modern life is full of perks, including having more choices for products and services than ever before. As of about 20 years ago, people who are interested in orthodontic treatment have two main choices: traditional braces or Invisalign in Marion. Both options will give you fantastic results, but each one offers unique advantages to keep in mind. Keep reading below to learn more and get an idea of which one will serve your needs the best.
The Differences Between Invisalign and Braces
Both of these treatments work by putting pressure on the teeth to gradually move them over time, but Invisalign uses clear plastic trays called aligners, and braces use metal brackets and wires. While most people focus on the difference in how each one looks, there are other important differences as well:
Treatment time – The average treatment time for Invisalign is 12 months. For traditional braces, it's 18-24 months.
Invisalign trays are removable, braces are fixed – Since you're able to take Invisalign trays out, you can eat without any restrictions and will also be able to keep your teeth and gums cleaner. However, patients must be committed to wearing their trays at least 22 hours a day to get their results on time and have to be careful not to lose them. Those issues don't apply with braces.
Cost – Generally speaking, traditional braces in Marion are more cost-effective.
Progress visits – With Invisalign, most people usually come in every 6-8 weeks. In braces, progress visits are more like every 4 weeks.
Which One Is Best For You?
Each patient is unique, so the best way to know which one is best is to schedule a consultation with a dentist who offers both types of orthodontics in Marion. They'll evaluate your age, oral health, goals, budget and the severity of your issues before making a recommendation.
With that said, both Invisalign and braces work for many different issues, including crowding, gaps, crossbites, underbites, and overbites. In general, Invisalign is better suited to mild or moderate cases, whereas braces are better for more extensive jaw or alignment issues.
Orthodontic treatment isn't a one-size fits all solution. But, regardless of which option you use, you can bet that you'll soon have a straight, beautiful smile!
About the Author
Dr. Christine Root is a family dentist with decades of experience and a graduate of the Indiana University School of Dentistry. She's a firm believer in the importance of a straight, even smile for good oral health, and she and her colleagues offer multiple orthodontic options to fit everyone's needs. If you have any questions about Invisalign, braces, or want to know which one is right for you, she can be reached via her website.