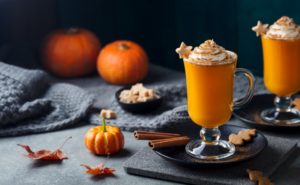 If you absolutely love pumpkin spice season because of all the delicious fall beverages that you get to drink, welcome to the club! While they're delicious, they're not always great for the health of your teeth and gums. Dental decay and oral health problems can put a damper on your holiday spirit, which is why you should read on to find out three ways to limit sugar's effect on your teeth.
Ditch the Flavorings
Whether you're in your local coffee shop or scanning the coffee aisle at your grocery store, it's the time of year where you'll find dozens of delicious fall-flavored drinks. It's important to note that they're not always bad for the health of your teeth and gums. However, there are ways you can make them better. Many of these beverages contain sugary flavorings like syrups that can cling to your teeth and cause harmful oral bacteria to accumulate and cavities to form.
The good news is that hot coffee made from roasted beans has been proven to help fight off lingering bacteria that cause cavities. In a study published in the Journal of Conservative Dentistry, researchers found that coffee can help prevent dental decay as long as it's consumed without additives.
Drink Through a Straw Whenever Possible
Maintaining pearly whites for your holiday family pictures is important, which is why many people see their dentist in Marion for professional teeth whitening. Even if you've brightened your smile this way, it's still important to limit your consumption of stain-causing food so your grin stays beautiful. A good way to do this is to only drink beverages that could stain a white shirt through a straw whenever possible. This will keep the liquid from coming into direct contact with your pearly whites.
Switch to Green Tea
Many people like to enjoy a cup of black tea with orange, honey, and cinnamon for the fall. While this is sure to warm you up, it's also sure to cause your teeth to look discolored and stained over time. Instead, try switching to green or herbal teas that are lighter in color. Drinking green tea regularly has even been proven to protect your teeth from cavities, prevent gum disease, and fight off chronic bad breath, according to a 2016 study.
Your Teeth Enjoy Pumpkin As Much As Your Tastebuds Do!
The season of the pumpkin is here, which means it's time to celebrate it! Real pumpkin is packed full of vitamins and minerals that are great for your gums. They contain zinc, which your body uses to help repair damaged tissues. It also has vitamin A, which helps produce saliva that rinses away sugar and bacteria, and vitamin C, which strengthens your immune system to fight off gum disease.
Although you may have been told that pumpkin spice season is bad for your oral health, there are certain preventive measures you can take to keep warm drinks from causing oral health issues. When you eliminate sugars and substitute ingredients that can help protect and strengthen your gums and teeth, the holidays are filled with fewer dental emergencies and more joy!
About the Author
Dr. Christine Root has years of advanced dental training and experience that allows her to provide comprehensive care as a dentist in Marion to all of her patients. She has completed internships in implantology and orthodontics and is an active member for countless professional organizations. She looks forward to giving her patients the tools and treatments they need to maintain great oral health and boost their self-confidence. For questions or to schedule a routine checkup and cleaning, visit Bruner Dental's website or call 765-613-3128.