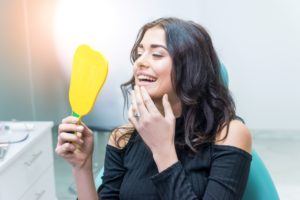 Now, more Americans than ever have access to affordable dentistry because they have dental insurance; however, less than 3% of people meet or exceed their annual limits. If you're among those who don't use all their coverage, you're losing hundreds to thousands of dollars because your benefits expire at the end of the year. As we reach the holiday season, now is the time to schedule an appointment with your dentist to maximize your insurance benefits.
How Does Dental Insurance Work?
Contrary to what you might believe, medical and dental benefits are quite different. You pay monthly premiums for your dental insurance, which gives you access to discounted rates for the services your teeth and gums need to stay healthy.
Although every policy is different, most cover preventive services 100% for 1 to 2 dental visits per year, which includes cleanings, checkups, and X-rays. Your insurance will also pay around 80% of the cost of restorative treatments until you reach your annual limit. Most policies have a limit of about $1,500; however, you'll first need to pay your yearly deductible.
Why Should I Visit the Dentist?
If you're like many Americans, you might think you're saving money by not seeing your dentist until after a problem develops, but this is untrue. In fact, preventive care lowers your long-term dental expenses because it stops certain issues from occurring in the first place, like tooth decay and gum disease. This lessens the need for a costly treatment down the road.
Your dental insurance makes it easy to get comprehensive care because they focus on prevention. Not only will you get the services you need to keep your smile healthy, but also those necessary to quickly rehabilitate your oral health if a problem occurs.
It's important to visit your dentist regularly to maximize your insurance benefits because you will lose the coverage you've paid into. It doesn't carry over for accumulation and you aren't reimbursed for your premiums, deductible, or annual limit.
How Can I Maximize My Benefits?
Your insurance carrier recommends you visit an in-network dentist because they have pre-negotiated rates with one another. You can still visit a dentist who is out-of-network, but you'll need to pay the difference between their fees and your insurance's allowable coverage. Your dentist will work on your behalf with your insurance company to file the necessary claims and paperwork for reimbursement to use your benefits to their full potential.
Don't lose the coverage you've paid into all year. Get a healthy smile for affordable rates using your dental insurance.
About Bruner Dental
Our office strives to provide superior services for affordable rates. We work with many leading insurance companies to reduce the amount our patients need to pay out-of-pocket. If you need to use your coverage before the end of the year, don't wait. Contact our office today to schedule an appointment.