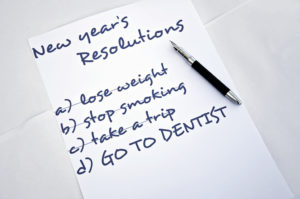 The start of the New Year is all about improving your life and becoming the best version of yourself. Instead of setting over-ambitious habits or unreachable goals, why not start by taking care of your smile? Seeing your dentist in Marion for a dental checkup is an easy New Year's health resolution you can keep and a habit that can dramatically boost the quality of your life. In fact, studies show that when you maintain great oral health with regular dental exams and cleanings, you'll improve your confidence, appearance, and your overall health for years to come. Find out why keeping your teeth clean with a dental checkup should be your goal in the upcoming year.
Why Are Dental Cleanings So Important?
Even with daily brushing and flossing, plaque can still manage to build up and harden on your teeth. This tough substance known as tartar discolors your teeth and cannot be removed with regular dental habits. At your dental checkup, your dentist uses specialized tools to gently but thoroughly scrape off all the built-up plaque and tartar, leaving your teeth gleaming.
Dental cleanings do more than just keep your pearly whites bright. Removing the plaque and tartar from your mouth also cleans out the bacteria it contains, which can cause oral health issues over time. Eliminating it drastically reduces your risk of tooth decay, gum disease, and extensive dental work in the future.
What Happens During a Dental Examination?
The second half of a regular dental checkup is the exam. This is where your dentist inspects your mouth for any issues you might not be aware of yet. They'll look for signs of cracks, weakness, and developing cavities in your enamel, as well as inflammation and other indications of infection in your gums. Catching issues like these as early as possible is essential to preventing future discomfort and damage.
The exam also gives your dentist the opportunity to discover problems beyond your mouth. They'll be on the lookout for tell-tale signs of larger underlying conditions like diabetes, lupus, oral cancer, and more since these problems may present their earliest symptoms in your mouth.
Tips for Better At-Home Hygiene Between Visits
For the best oral healthcare and earliest detection of issues, dentists recommend getting a dental checkup every six months. In the meantime, you can keep your mouth and body healthy by practicing habits like:
Brushing your teeth for two minutes twice a day.
Flossing all your teeth once a day.
Cutting back on sugary and sticky snacks.
Start becoming healthier this year by getting a dental checkup! When you commit to taking care of your oral health and visiting your dentist regularly, you set yourself up for a lifetime of happy, healthy smiles.
About the Practice
At Bruner Dental in Marion, IN, we are dedicated to helping you achieve and maintain the smile you've always wanted. With a combination of advanced technology and our highly experienced team of dentists, we strive to comfortably and efficiently meet all your dental care needs under one roof. We highly encourage getting dental exams and cleanings at least twice a year to keep your smile in tip top shape, so feel free to contact us via out website or at (765) 613-3128 if you have any questions.