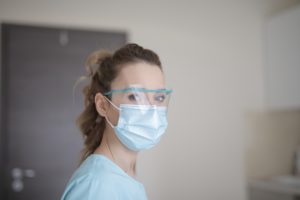 Over the last several weeks, dental offices throughout the U.S. have been closed to help combat the spread of COVID-19. As cases of the virus decline, restrictions are lifting and many dental practices are reopening, including Bruner Dental. If you need to see your dentist in Marion, your safety is our top priority. We maintain the highest sanitary standards to give you the peace of mind you need to visit your dentist.
Advanced Training in Personal Hygiene
In general, dental offices are some of the cleanest places because they must abide by strict sanitation protocols; however, with the current COVID-19 pandemic, our staff has undergone advanced training in personal hygiene to better promote the wellbeing of our patients. This involves more than just washing their hands often.
You may notice our dental team is wearing their hair up while also leaving their jewelry and watches at home. Their fingernails will be kept short to ensure there are no bacteria lingering on their hands.
Our dental team will also use double-masking to ensure their safety and yours. Our administrative team will also wear ASTM Level 3 masks. In some instances, you might even see our clinical team wearing FDA-approved face shields. To further reduce the risk of virus transmission, our team will use disposable protective coats and hats.
CDC-Approved Sterilization
Our office always places a strong emphasis on sterilization and safety. Besides our traditional techniques, we've also gone the extra mile to also use a CDC-approved instrument sterilization system. Rest assured, anything that goes near your mouth is cleaned using heat and pressure between each use. We also thoroughly clean, sanitize, and disinfect all our instruments, equipment, and surfaces after every patient. Every night, we also take the time to deep clean our office to ensure we start the next day with a sterile environment, including the air. Our office has added HEPA-grade filters to our HVAC system and stand-alone air cleaners throughout the office.
Increased Distancing Measures
With social distancing the key to reducing the spread of coronavirus, our office will not be shaking your hands or giving hugs. We are also changing our scheduling method to prevent our patients from being in contact with one another. We are allowing for more time between appointments, so we can clean between patients. Rest assured, we can still see as many as 6 family members during a visit for your convenience and dental patient safety.
Welcome Back to Bruner Dental
As the country reopens, we look forward to seeing you and your loved ones again. We'll keep your safety a top priority while providing you with the dental care you need.
About Dr. George Bruner
Dr. George Bruner earned his dental degree at the Indiana University School of Dentistry. With over 35 years of experience, he provides the high-quality dental care you deserve. He remains well-versed in the latest techniques and methods, including those related to sanitation. Dr. Bruner and his team go the extra mile to reduce your risk of COVID-19. If you need an appointment, contact our office today.