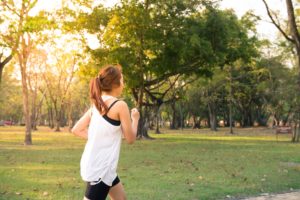 While you enjoy your morning jog or lift weights at the gym, have you noticed some dental pain? You aren't imagining things. In fact, many people complain of toothaches while exercising. Although you might think it's normal, it's often an indicator of a larger issue brewing in your mouth. It's best to see your dentist for any tooth pain before it turns into a dental emergency. While you wait for your appointment, here are 4 common causes of exercise induced dental pain and what you can do to stop it.
1. Tooth Sensitivity
Tooth sensitivity often occurs when the teeth are exposed to hot or cold temperatures. While you might think this only involves the foods and drinks you consume, it can also include the air you breathe through your mouth. Not only can the temperature cause discomfort, but also inhaling too quickly.
There are several reasons you can develop tooth sensitivity while running, like tooth decay, gum disease, or weakened enamel. Until you can see your dentist, try breathing in through your nose and out through your mouth to ease your discomfort.
2. Bruxism
Many people have an unconscious habit of grinding or clenching their teeth while they exercise, like when lifting weights or holding a yoga position. If you develop dental pain while running, it could be caused by this bad habit. Each step you take can create reverberations through your body. If your teeth are locked together, you might feel them in your teeth as well. It's best to keep your jaw relaxed while you run to prevent dental pain.
3. Sinus Issues
Believe it or not, sinus issues can make your teeth hurt. If you have an untreated sinus infection or another problem, it can lead to a toothache. Since the sinuses are located behind your cheeks, jaw, and eyebrows, they can lead to dental pain. It's best to treat any inflammation to stop your teeth from hurting while you run. If you suffer from seasonal allergies, you might want to consider using a treadmill indoors until pollen levels subside to avoid dental pain.
4. Oral Health Issues
Untreated oral health issues can flare up while you're exercising, like weakened enamel, exposed tooth roots, or cavities. It's best to visit your dentist at least twice a year for a cleaning and checkup. Your dental hygienist will remove any tartar buildup that can lead to tooth decay or infections. Your semi-annual appointments also allow your dentist to monitor your oral health to look for any potential problems before they turn into a bigger concern that might lead to a dental emergency.
Stop Your Dental Pain
Many people think an occasional toothache while exercising is normal from time-to-time, but it's never a good sign. If you have any dental pain, don't wait until it's too late to visit your dentist.
About Bruner Dental
Bruner Dental offers comprehensive dental care in a comfortable environment that feels like home. Our team of dentists combines their qualifications with the latest technological advancements to provide superior services. If you have dental pain, we will pinpoint the cause of your discomfort to restore a healthy smile. Contact our office today to schedule an appointment.