Braces – Marion, IN
Traditional Smile Improvements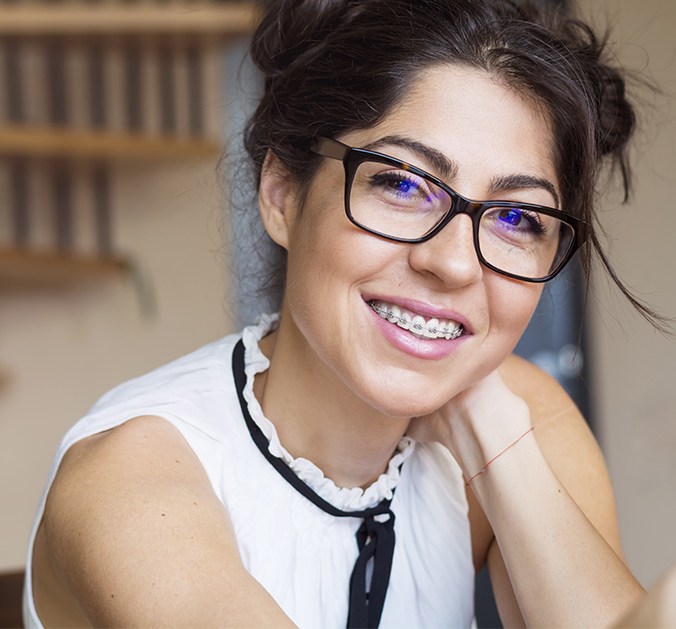 Conventional braces are the tried-and-true orthodontic treatment method. They have been around for decades, and nothing is more reliable than this option. If you or your child are interested in or need traditional braces in Marion, keep reading to find out more about how they work, how much they cost, and their benefits. At Bruner Dental, all three of our dentists provide dentists -- and we are all passionate about revealing healthy, beautiful smiles through superior orthodontic treatment, using braces in our Marion, IN dental office.
Why Choose Bruner Dental for Braces?
Advanced Technology for Treatment Planning
A Team of Multiple Skilled Dental Experts
Family Friendly Dental Office with Caring Team
How Conventional Braces Work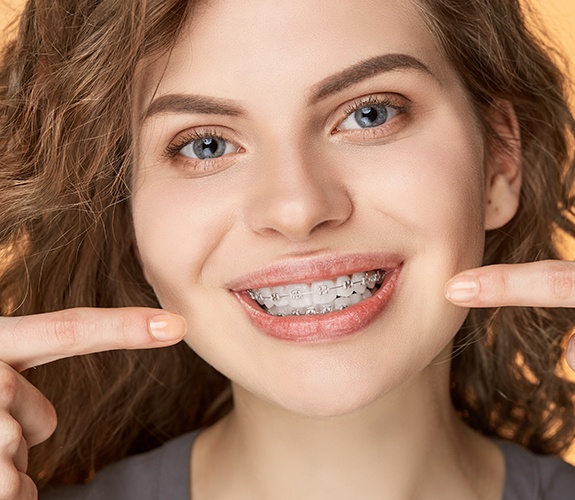 Metal braces are probably what you imagine when you think "braces." These are metal brackets that are securely fixed to the front side of each tooth. A single metal wire is threaded through them and secured with small rubber bands. By tightening this wire, your orthodontist can place pressure on different areas of the bite throughout the treatment. This focused pressure brings the teeth into proper alignment over the course of 18 to 24 months, on average. You will need to visit our dental office every 3 to 4 weeks during the treatment for an adjustment and so we can make sure everything is progressing along as it should.
Once the treatment with braces is complete and the brackets are removed, a retainer will be prescribed. It should be worn almost 24 hours right at first, then after a few months just at night to help ensure the teeth stay where they should be for years and years to come.
An Affordable Option for Families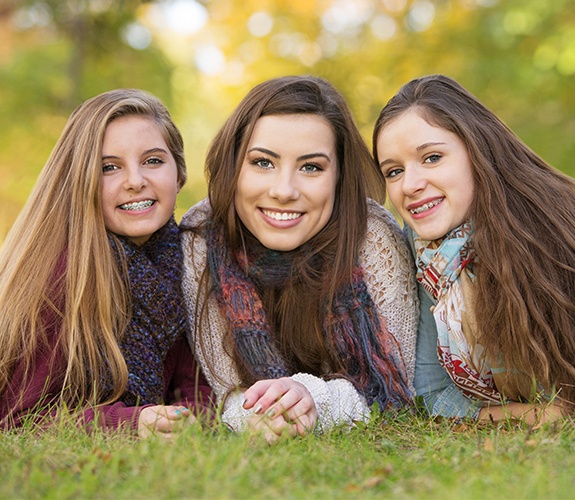 Compared to Invisalign and other clear or accelerated orthodontic options, conventional braces are the most affordable way to straighten the teeth. The total cost of your treatment will depend on how complex your case is, as this will determine how long you wear braces, how many appointments to the dentist you require, whether or not you need any special hardware, and other considerations. Additionally, breaking a bracket or wire throughout the treatment will result in extra cost. We can give you an estimate for what budget for conventional braces during an orthodontic consultation.
Many Benefits of Conventional Braces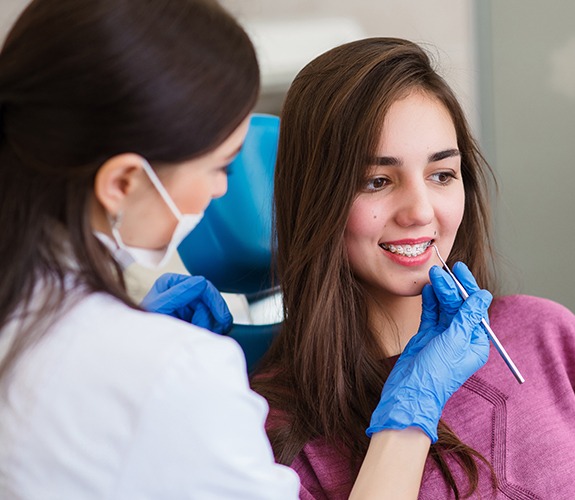 Metal braces offer a number of advantages to patients of all ages. Some of the most considerable benefits of this orthodontic option include:
Conventional orthodontics are the most affordable option for straightening teeth.
Fixed braces cannot be lost or accidentally thrown in the trash.
Metal braces are the most reliable option in orthodontics.
Patients of all ages can benefit from fixed metal braces.
Even the most complex orthodontic cases can be treated with conventional braces.
Teens love the customizability of metal braces -- rubber bands and accessories come in different colors and patterns.
Braces Frequently Asked Questions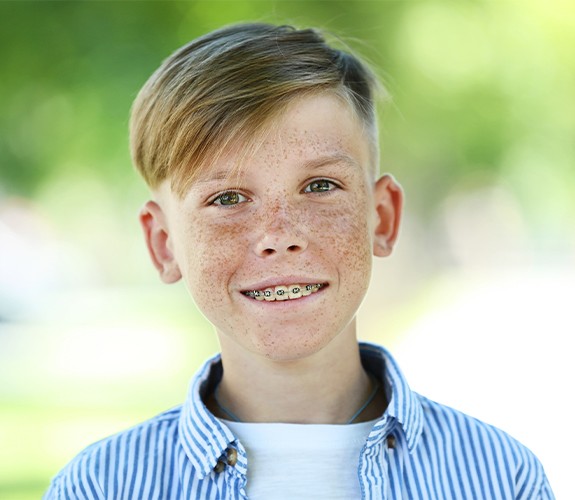 Want to learn even more about braces? Below, you'll find some of the most common questions that our patients ask about braces in Marion. If you don't see the answer you're looking for, we invite you to give us a call so we can personally satisfy your curiosity.
Do Braces Cause Pain?
You can expect some mild discomfort with orthodontics in Marion, especially right after you get your braces adjusted. OTC pain relievers can help you cope. Sipping cool water and using an ice pack can also help. If you ever find yourself in severe pain, call us so we can help you deal with the situation.
Are There Foods I Can't Eat with Braces?
We would hate for you to accidentally damage your braces or your teeth when you are eating. That is why we strongly recommend that our braces patients make some adjustments to their eating habits during their treatment. For example, you should avoid sticky foods like taffy and gummy bears. You should also remove corn from the cob and cut apples into pieces before you eat them. When you receive your braces, we'll give you more detailed guidance on how and what to eat.
How Can I Keep My Teeth Clean with Braces?
You'll be able to brush your teeth according to your normal routine. Always be gentle and thorough and take care to clean the back sides of your teeth and the area along the gum line. It might take a bit of practice for you to get the hang of flossing with braces. A floss threader can help you get the floss beneath the arch wire so you can clean the tight spaces between your teeth. Some patients also invest in a water flosser.
Can I Play Sports with Braces?
Absolutely! You don't have to sacrifice your favorite sports for fear of damage your braces. Just be sure that you always wear a mouthguard. Custom mouthguards that accommodate both your teeth and your braces provide the greatest level of comfort and protection. If you are an athlete, mention that during your braces consultation so we can include a mouthguard as part of your treatment plan.
Learn More about Metal Braces Today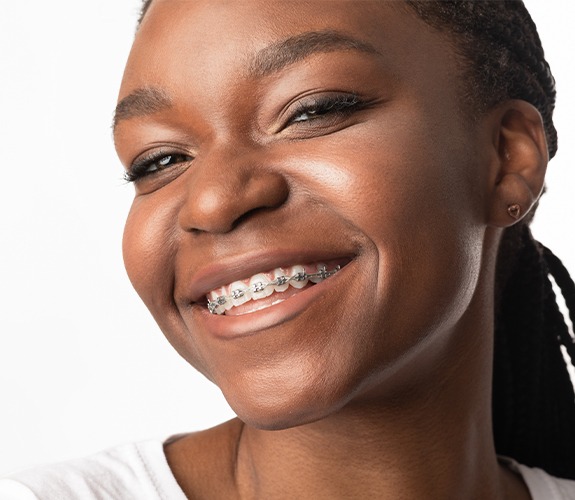 If you are interested in learning more about metal braces, we invite you to contact the dental office of Bruner Dental! Our doctors offer excellence in orthodontics in Marion, and we cannot wait to reveal your best smile. Go ahead and request an appointment today.