Dental Crowns & Bridges – Marion, IN
Custom Solutions for Damaged Smiles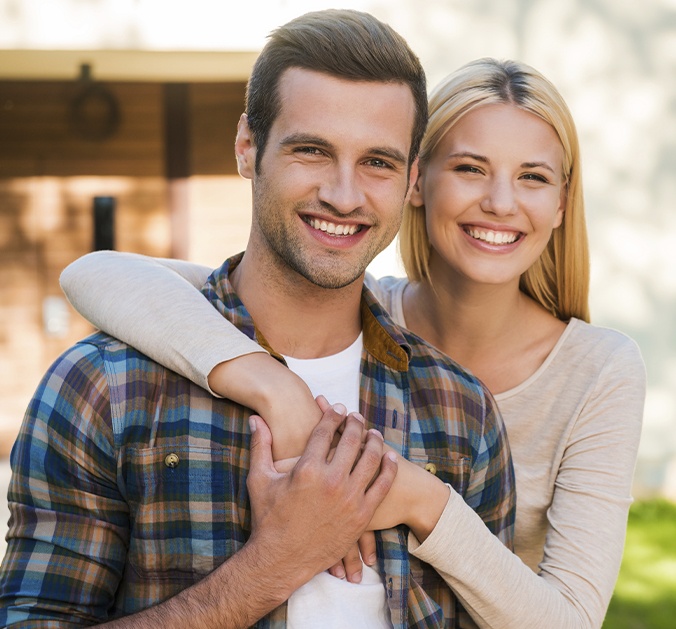 The traditional crown and dental bridge are a long-trusted restorative solution. A single crown restores damaged or imperfect teeth, and two or more crowns replace missing teeth as a dental bridge. A crown and bridge is completed in two to three visits to your dentist at Bruner Dental. More information on how dental crowns and bridges from our Marion, IN dentist work, the procedure for crown and bridge, and maintaining your restorative device is detailed below.
Why Choose Bruner Dental for Dental Crowns & Bridges?
Expertly Shaded Ceramic Material
Long-Lasting, Reliable Results
State-of-the-Art Dental Technology
How Dental Crowns Work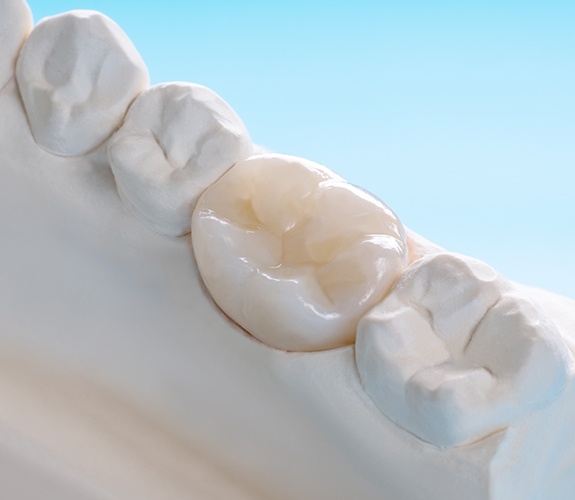 Also called a cap, the dental crown completely covers a damaged or weak tooth to restore its form and function. It is a tooth-shaped covering that is affixed directly to the affected tooth. Ceramic or porcelain crowns can be customized to blend flawlessly with the surrounding natural teeth.
A dental crown can be used to correct the following issues:
Broken teeth
Weak or worn teeth
Severely decayed teeth
Cosmetic imperfections
Crowns are also used in tooth replacement as a bridge. Single tooth replacement can be performed with the support of a dental implant.
How Dental Bridges Work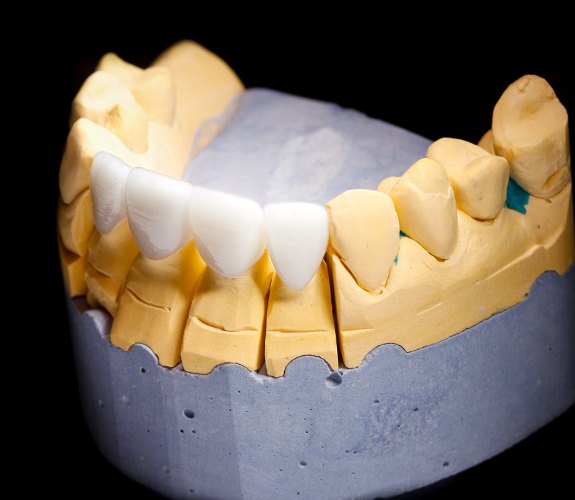 The dental bridge fills gaps in a smile using the two natural teeth surrounding the gap as anchors. A dental crown is affixed to these stabilizing teeth, and the bridge composed of one or more crowns fills the space in between. A fixed bridge cannot be removed for cleaning. In addition to restoring your ability to eat, speak, and smile with confidence, dental bridges prevent the surrounding natural teeth from drifting out of place.
Procedure for Dental Crown and Bridge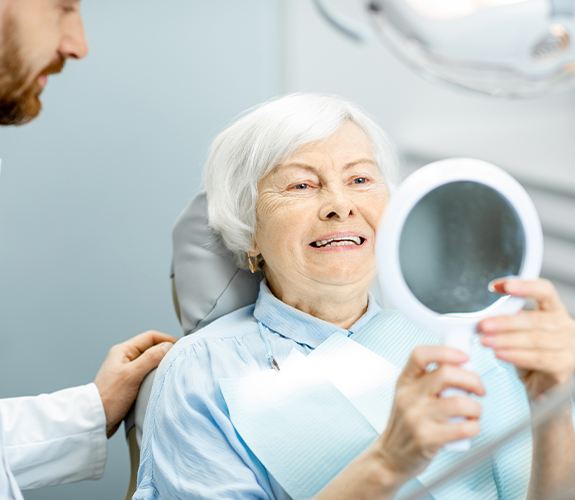 At Bruner Dental, we perform the procedure for crown and bridge in two to three visits. The first visit is for treatment planning and preparing your tooth or teeth for the application of your device. Natural teeth must be reshaped to make room for the dental crown to be placed on top. Once sufficient enamel has been removed, your dentist takes impressions of the tooth for the creation of your dental crown(s). This information is sent to a laboratory, where the crown is manufactured. You wear a temporary crown or bridge during this time. Approximately two weeks later, you return to Bruner Dental for the removal of your temporary device and the final placement of your dental crown or bridge.
Caring for Your Dental Crown or Bridge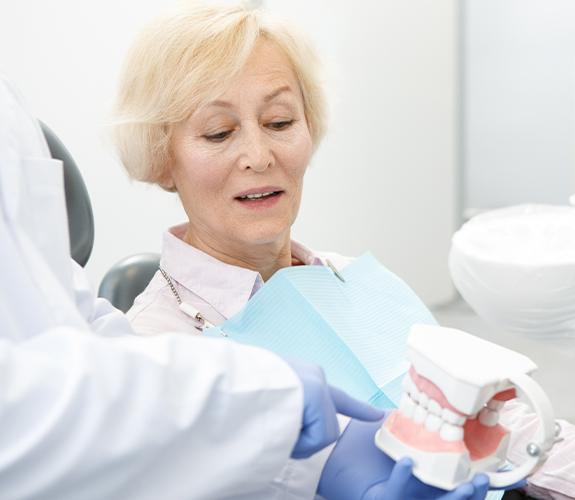 After your tooth or teeth have been restored with a crown or bridge, make sure you brush and floss thoroughly to maintain healthy teeth and gums. Floss carefully around the base of the device for the complete removal of plaque and food particles. In follow up visits to your dentist, we will check in on your crown or bridge to make sure it is functioning effectively. Regular preventive appointments help to ensure we catch potential issues as soon as possible. Contact Bruner Dental to discuss your restorative dental care today! We offer a range of dental treatments, including the traditional crown and bridge. Our Marion, IN dental office warmly welcomes patients from Jonesboro, Fairmont, and beyond.