Oral Surgery – Marion, IN
Advanced Solutions for Advanced Problems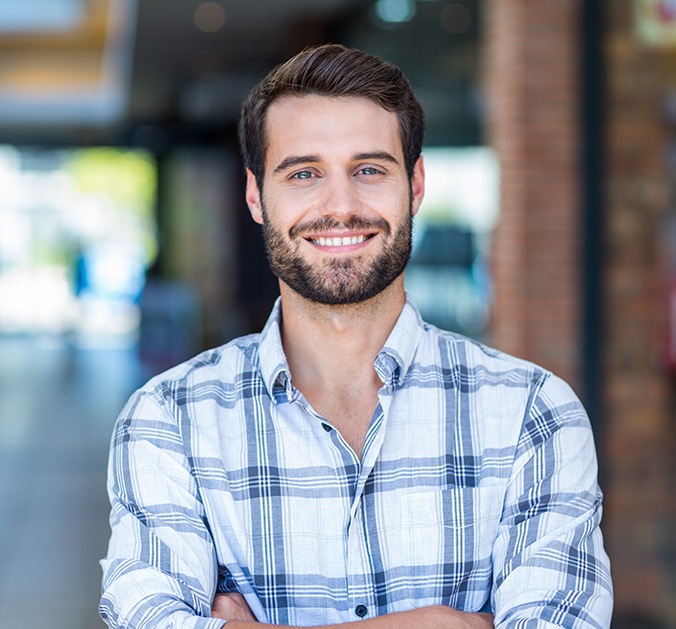 At our full-service dental office, Dr. Bruner, Dr. Root, Dr. Sneed, and Dr. Tinsley offer a range of services to address oral healthcare needs. We offer oral surgery for our Marion, IN dental patients to remedy painful and unhealthy dental conditions that diminish quality of life.
Why Choose Bruner Dental for Oral Surgery?
The Latest in Dental Technology
Team of Experienced Dentists
Multiple Forms of Relaxing Sedation
What Type of Oral Surgery is Available?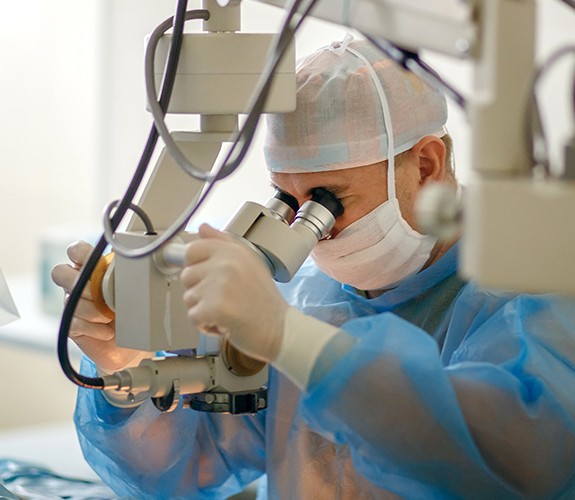 Our oral surgery services include:
Root canal therapy
Removal of impacted or erupted wisdom teeth
Removal of irreparably damaged teeth
Tooth extraction in preparation for restorative treatments, such as dental implants or dentures
Gum surgery to relieve symptoms caused by advanced gum disease
Bone grafts to increase bone mass in advance of dental implant placement
Gum tissue grafts to improve the function and esthetics of receding gums
We'll look out for your comfort and safety every step of the way. Anxiety-eliminating oral sedation provides total relaxation during oral surgery.
Please don't hesitate to contact Bruner Dental today if you're in need of comprehensive, revitalizing care for the whole family. Our dental office is located in Marion, IN, and we welcome new patients from the nearby areas of Gas City, Wabash, and beyond.
Oral Surgery Frequently Asked Questions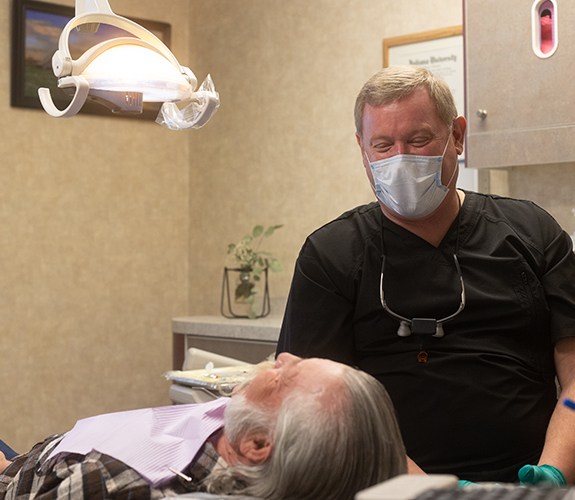 If you need oral surgery, we know you have a few apprehensions, but there isn't any reason to worry. We'll take the time to address your concerns during your consultation and before your procedure. While you wait for your appointment, here are the answers to a few of the most common questions patients ask their oral surgeon in Marion to help put your worries at ease.
I Had Oral Surgery This Morning and One of My Stitches Already Came Out. Is That Okay?
In short, the answer is yes. While stitches play an instrumental role in assisting with the control of bleeding and clot formation, the loss of one isn't necessarily considered a dental emergency. However, it's always better to be safe than sorry. So, if one or more of your stitches comes out, contact our dental office right away.
What Kinds of Foods Can I Eat After Having Oral Surgery?
During the healing process from your oral surgery in Marion, you should swap your usual diet for a post-oral surgery one, especially since indulging in the wrong foods can negatively impact the healing process. With this in mind, you should avoid crunchy, hard foods, like popcorn, nuts, and potato chips. Not only will these items put a tremendous amount of pressure on your teeth, but the broken-up particles can easily get packed down into the healing wound. Instead, stick to soft, cool foods, like applesauce, cottage cheese, and yogurt in the days following your procedure.
What If Pain Medicine Isn't Helping?
If the medication regimen isn't working, then you may find the comfort you are looking for by switching it up. Instead of taking 600 mg of Motrin or Ibuprofen every six hours in combination with 1000 mg of Tylenol every six hours, put each of these medications on a separate schedule. For example, take the Motrin, then three hours later take the Tylenol, then three hours later take the Motrin again. That way, you can maximize your pain management while minimizing unwanted side effects, like nausea. Just make sure to get the green light from our oral surgeon in Marion beforehand to prevent an overdose of either medication.
How Can I Combat Post Oral Surgery Nausea?
Nausea is an unfortunate and common side effect of sedation medication. Fortunately, you can soothe your stomach by following a few best practices. First, maintain good hydration by drinking water or Gatorade following your procedure. Once you've been able to hold down liquids for a few hours, begin to incorporate soft foods. Typically, dairy products, like milkshakes, contribute to queasiness, so it's best to avoid those initially. If you do vomit or your condition is worsening, then contact our dental office immediately. From there, we can guide you through the next best steps to ensure you stay hydrated and healthy.
Does Root Canal Therapy Hurt?
Root canals have a bad reputation for being painful, but don't fret. Dentistry has come a long way over the years. Our dental office uses the latest technologies and techniques to ensure you're comfortable during the procedure. If you need a little extra help relaxing, we also offer sedation dentistry. You won't feel anything during your procedure; however, it's normal to experience some tenderness for a couple of days while your body heals. You can easily manage it using an over-the-counter pain reliever.
Is It Necessary to Remove Impacted Wisdom Teeth?
Impacted wisdom teeth can lead to a variety of issues, like pain, infection, and damage to the surrounding teeth. It's best to have your third molars removed if they have not fully erupted through the gum tissue. If they are impacted, you'll need oral surgery in Marion to successfully remove them.
Why is a Bone Graft Necessary for Dental Implants?
Not everyone interested in dental implants will require a bone graft. The procedure is recommended for patients who don't have enough bone to support dental implants, such as for patients who have had missing teeth for several years, infection, or trauma. Although it adds another step to your treatment plan, it's time well spent to ensure the long-term success of your new smile. During your consultation for dental implants, your dentist will review a CT scan of your jaw to check your jaw's density to determine if you need the additional procedure.
How Much Does Oral Surgery Cost?
There isn't a set fee for oral surgery because there are several factors that influence the cost, such as the type of procedure and the complexity of your case. We'll provide you with an estimate during your initial consultation and discuss the fees associated with your plan. A member of our team will take the time to explain your payment options, like traditional methods or third-party financing. We will help you find the solutions you need to pay for your care without breaking the bank.
Can I Use My Dental Insurance?
Every plan differs, but most plans offer some coverage for oral surgery depending on the type, such as an extraction or bone graft. After reaching your annual deductible, you can use your benefits to help offset the amount you need to pay. A member of our team will work on your behalf with your insurance company to file the necessary claim forms, so you have one less thing to worry about. We'll help you maximize your benefits to help keep your care within your budget. If you have any questions about your policy, don't hesitate to contact our dental office.