Teeth Whitening – Marion, IN
Enjoy a Brighter Smile Again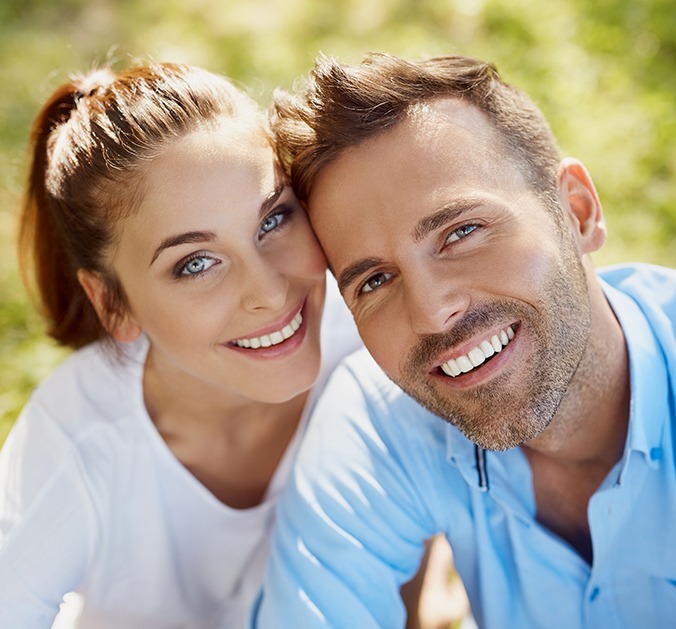 According to a national study conducted by the American Academy of Cosmetic Dentistry (AACD), the one thing people most want to improve about their smile is the whiteness and brightness of teeth. Our society values a dazzling smile and attributes success, beauty, confidence, and intelligence to people with pearly white...pearly whites! Nowhere is this more obvious than the oral hygiene aisle at your local pharmacy. You'll find shelves of whitening strips, gels, pastes, and mouthwashes. Unfortunately, these store-bought products aren't very effective.
At Bruner Dental, you can brighten your smile up to ten shades in one appointment at our dental office, using Zoom! teeth whitening from our Marion, IN cosmetic dentist. Patients can also bleach teeth at home with professional-grade take-home teeth whitening kits. Both methods deliver safe, reliable results and remove stains caused by coffee, tea, red wine, berries, tobacco, and other offenders. The method you choose depends on your unique needs and preferences. During a cosmetic dentistry consultation, our team will help you find the best teeth whitening method to address your tooth staining and brighten your smile. We look forward to giving you a better, brighter smile! Contact Bruner Dental today to schedule your first appointment. Our dental office is located in Marion, IN, and we serve the nearby areas of Wabash, Fairmount, and beyond.
Why Choose Bruner Dental for Teeth Whitening?
Professional-Grade Whitening Kits
Quick, Reliable ZOOM! Whitening
Oversight from Talented Dental Team
Whiten in Our Dental Office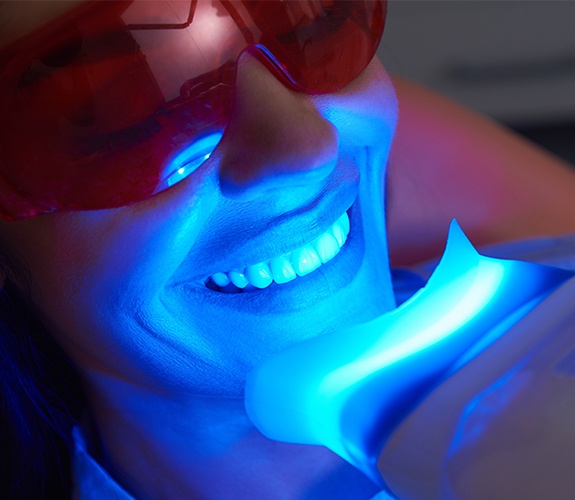 A Zoom!® whitening treatment appointment takes about an hour in our Marion dental office. While you rest comfortably, we isolate your smile using plastic guards to protect soft tissue and keep neutralizing saliva off of teeth. Then, we apply a custom dose of the Zoom! bleaching gel to teeth. Zoom! teeth whitening uses a special blue light to activate and accelerate the teeth whitening process. The gel and light work in tandem to lift stains and discolorations from surface tooth enamel and even the inner dentin layers of teeth. We allow the whitening gel to work for about 20 minutes before checking your results. We reapply as necessary to allow patients to achieve their desired results. Tooth stains disappear quickly without impacting natural tooth structure. To maintain your results, we can offer professional take-home kits containing supplies to touch up your smile as needed.
Whiten at Home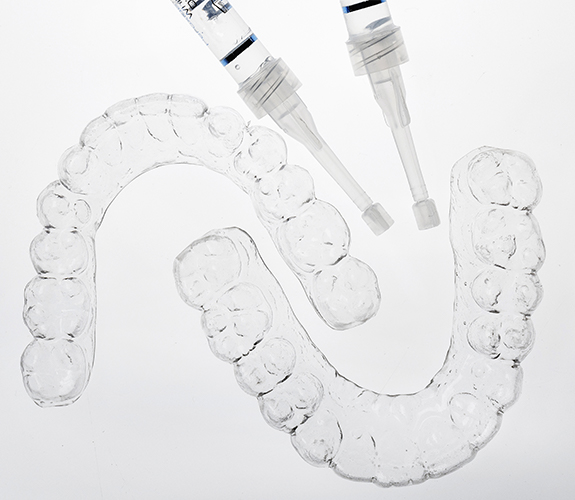 Bleaching at home lets you choose where and when to brighten your teeth. We take an impression of your smile to create custom-fitted bleaching trays and give you a supply of professional-strength teeth whitening solution. The custom fit of the trays ensures that the bleaching solution covers the entire surface of teeth without leaking or allowing neutralizing saliva access to the smile that halts the teeth whitening process. We'll instruct you on how to use these custom-crafted trays before you leave the dental office. Typically, you'll wear the application trays with whitening gel for about half an hour each a day for between ten days and two weeks. This leads to a bright, beautiful smile, delivering the same results possible with in-office Zoom! teeth whitening over the course of several daily applications. These professional take-home teeth whitening kits are also beneficial to maintain the results of in-office teeth whitening. Most patients can keep their pearly white smiles with just a few applications each year.