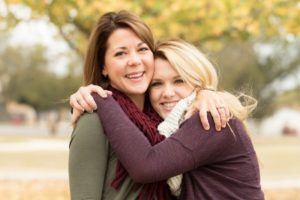 As a parent, you want to help your child have the best oral health possible. But did you know that when it comes to orthodontics, it's not too late to get issues you've wanted solved as well? Thanks to the many options from your orthodontist in Marion, both of you can benefit from the world of orthodontics. Not only can your smiles look better, but they'll be healthier as a result.
As it turns out, many older patients are coming back to the orthodontist to fix misalignments in their smile as well as improper bites. Keep reading to learn how orthodontics do more than just fix the look of your smile.
Orthodontics is More Than Just Cosmetic
When people think of orthodontics, they tend to think about how the overall look of their smile can change for the better. While a straighter smile is generally more appealing to look at, it's not the only benefit you can expect from it. In fact, having a straighter smile can make oral care easier and decrease your chances of dental disease.
When teeth are crooked, more cracks and crevices exist for food debris to collect in. This makes basic tasks like brushing and flossing your teeth more difficult. When teeth are aligned, these gaps are corrected, and oral care becomes much more straightforward. It also means you'll be less likely to contract gum disease and tooth decay because of missed dental plaque.
Adults and Teens Alike Can Reap the Benefits
Orthodontics is typically more associated with teenagers because their teeth are growing more rapidly than they would compared to an adult's. Like any preventive treatment, the earlier you start, the better the results will be, so boosting your child's confidence at a young age and giving them a healthier bite is great in the long term.
However, that doesn't mean orthodontics is exclusive to teenagers. In fact, the number one reason adults pursue orthodontics is because they had braces installed in the past but failed to wear their retainers enough to keep their smile straight. This caused their teeth to shift back to their original crooked position.
We Offer Traditional Braces and Invisalign in Marion!
If you're looking for a more traditional method of teeth realignment or you have a particularly severe case to solve, your orthodontist in Marion will use traditional braces to straighten your smile. Luckily, it's not a treatment required exclusively for teens.
Depending on the severity of your case, Invisalign is also an ideal solution for those trying to keep their current image, especially if you're an adult. Additionally, clear aligners from Invisalign are removable, meaning you won't have to change your brushing or eating habits for a healthier smile.
Have questions on which treatment is right for you? Schedule an appointment with your orthodontist today to see if Invisalign or braces in Marion are right for you!
About the Author
Dr. George Bruner earned his Doctor of Dental Surgery from the Indiana University School of Dentistry. Since then, he's been practicing dentistry for over 35 years and become a member of the ADA, the International Congress of Oral Implantologists, and multiple dental societies. To learn more about his orthodontic treatments and practice, contact him at (765) 613-3128 or visit his website.