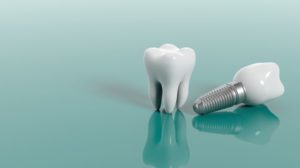 Studies show that as many as 80 million Americans suffer from missing teeth. Dentures are the most common way of dealing with this problem. But traditional dentures are held in place either with metal clasps (as with partial dentures) or with sticky, uncomfortable adhesives. Fortunately, there's a better option: dentures secured by dental implants in Marion.
How Implant-Supported Dentures Work
Dental implants are small titanium fixtures embedded in the patient's jawbone by a trained implant dentist. They serve as the foundation for a variety of tooth restoration methods, including crowns and bridges. In many cases, they're also used as the basis for a specially made denture plate.
Implant-supported dentures look and function just like healthy natural teeth. They're held in place by a series of implants, rather than adhesives or uncomfortable pressure. The patient is able to remove the product at will for cleaning or other purposes.
Benefits of Implant-Supported Dentures
Implant dentures offer a number of advantages over older forms of treatment. These include:
No need for creams or pastes: the restoration is supported by the implants themselves, not by liquid adhesives or pressure on the gums.
Exceptional resilience: implant-supported dentures last up to 25 years and almost never need relining. They're impervious to cavity-causing bacteria – although it's important for the wearer to practice good oral hygiene.
Ease of care: maintaining implant-supported dentures requires only basic steps such as cleaning the product daily and rinsing it a few times a day in plain water. Your dentist will give the restoration a quick inspection during routine exams.
A beautiful, natural appearance: implant-supported dentures look just like healthy natural teeth. They enable the wearer to show off his or her smile in confidence.
A healthier, happier life: implant-supported dentures allow the patient to eat his or her favorite foods, participate in exercise and sports, enjoy a wide range of social activities, and live a more fulfilling life in general.
How the Dental Implant Process Works
The journey to your newly restored smile starts with a visit to your local implant dentist. He or she will perform a complete oral examination to ensure that implants are the right solution for you. Occasionally, some patients may require bone grafts or other remedial steps first.
If your jawbone is in good shape and you are in good overall health, then the next step is to schedule an appointment for implant placement. This procedure is considered dental surgery; you'll receive anesthetics and, if desired, sedatives to help you relax and rest throughout the experience.
It takes a few months for your body to adjust to the presence of the implants. Once you're ready, you'll return to your dentist to have the visible portion of the implants placed.
Your dentist will also perform a series of measurements and imaging scans that will be used by the dental lab that crafts your new dentures. Once they arrive, you'll be able to start showing off your new smile right away.
Implant-supported dentures may not be the right solution for you; only your dentist in Marion can say for sure. Talk to him or her about your restoration options during your next appointment. For many patients, implant-supported dentures can be the key to a new life.
About the Author
Indiana native Dr. Christine Root is an implant dentist who has been caring for patients here at Bruner Dental for the past 33 years. She is a member of the American Dental Association and the International Congress of Implantologists. You can reach her office online or by calling (765) 613-3128.