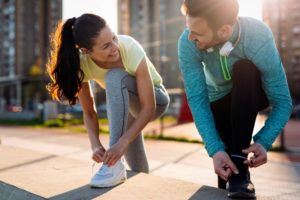 Did you make a New Year's resolution about getting healthier in the upcoming year? Surveys suggest that those are the most common resolutions across the country. Unfortunately, many people set up unrealistic habits for themselves and quickly burn out before achieving their goals. Instead of trying to better your health by running five miles every day or surviving off salads alone, why not start by improving your smile? Numerous studies show that great oral health boosts your general wellbeing and can reduce your risk of systemic diseases like diabetes and heart disease. Use these four practical New Year's health resolutions to enhance your smile and your overall wellness!
Get a Dental Checkup
Even if your teeth look and feel fine, regular dental examinations are essential to keeping your mouth healthy. Your dentist can help you catch and treat oral health issues as early as possible, preventing the spread of cavities, gum disease, and infection. So regardless of how long it's been since your last visit, make a New Year's resolution to call and make an appointment. To make regular dental visits a habit, be sure to schedule your next appointment before you leave the office.
Commit to Flossing
Did you know that 40% of the plaque in your mouth can only be cleaned out with flossing? Flossing plays a key role in protecting your oral health by preventing gum disease and infections that can spread throughout your body. The New Year is a great time to start flossing routinely. Try placing the container somewhere it's easily seen, like on top of your toothpaste, so you won't forget to use it.
Switch to Smile-Friendly Foods
Studies show that cutting back on sugary foods is one of the most effective ways to prevent tooth decay. This year resolve to switch out these empty calories with foods that brighten your smile instead. Foods rich in calcium, protein, and vitamin C will help your teeth and gums become healthier and stronger.
Kick Bad Habits
There are a lot of ways we can hurt our oral health on a daily basis without even realizing it. Breaking bad habits like smoking, chewing on fingernails, and constantly snacking on sugary foods is essential for safeguarding your overall health as well as your teeth. Ask for support from your family and friends as you break these bad cycles, find a healthy activity to do when cravings kick in, and see your doctor or dentist for additional help in overcoming addictions.
Greet the New Year with a new, beautiful smile! Use these 4 practical resolutions to increase your general and dental health all year long.
About the Practice
Bruner Dental provides top-notch preventive, restorative, and cosmetic dentistry to the Marion, IN area. Our experienced team of dentists is committed to giving you peace of mind while meeting all of your dental needs. With advanced technology and an array of services, we believe that we offer superior, personalized preventive and general dentistry. If you'd like to know more, we can be contacted at our website or at (765) 613-3128.