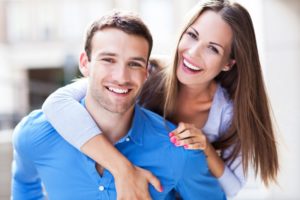 There are few activities more fun than playing sports on the beach and taking photos with your friends and family while you do it. While you're excited to get your tan and look truly summer, you can make your skin pop even more by pursuing teeth whitening treatments in Marion, regardless of your vacation schedule!
To learn how your dentist can make your teeth several shades whiter both at the practice and while you're on the go, keep reading!
How a Whiter Smile Can Enhance Your Vacation
Most people prefer to have a white smile in the summer since it contrasts well with their tanned skin, but anyone can benefit from having a whiter smile. According to studies conducted by the American Academy of Cosmetic Dentistry, more people want to improve the whiteness and brightness of their smile more than anything else. That makes sense considering how much a whiter smile is associated with health, beauty, and even intelligence.
Unlike whitening toothpastes or strips which tout exceptional whitening properties, they don't come close to what professional whitening ingredients can do. If you want to make your smile look it's best just in time for vacation, consider the following treatments during your next visit.
Zoom! Whitening at the Practice
One of the most common treatments is in-office whitening. Zoom! whitening uses special bleaching gel and blue light technology to activate it once applied to your teeth. These components work in tandem to lift stains from your enamel and dentin. In as little as one hour, discoloration becomes a thing of the past.
While teeth whitening can make your smile several shades whiter, it's worth noting that the process is completely safe. The bleaching agent travels through your enamel safely to reach the true source of your discoloration, the dentin. You'll also be given a mouthguard to protect your gums and maximize the bleach's whitening effects.
Whitening on Your Own Time
If you have a vacation coming up and don't have time to schedule in-office whitening, there's always customized whitening kits you can use on the go! These are nothing like the ones you find over-the-counter. To get the most out of your whitening treatment, your dentist in Marion creates impressions of your teeth to make your bleaching trays. You'll also be given a supply of professional-grade whitening solutions.
Since the trays are customized to fit your teeth exactly, there's no worry of the solution leaking while in use or missing areas of your teeth. It ensures a uniform whitening treatment from start to finish. By wearing the trays for about an hour a day over the course of 10 to 14 days, you can get the same results you'd normally find in-office!
To complete your summer look, consider the benefits of teeth whitening in Marion. Schedule an appointment with your dentist today to get started!
About the Author
Dr. George Burner earned his Doctor of Dental Surgery degree from the Indiana University School of Dentistry. With his 35 years of experience, he can get your teeth looking brighter than ever just in time for summer! To learn more about his cosmetic treatments or practice, contact him through his website.