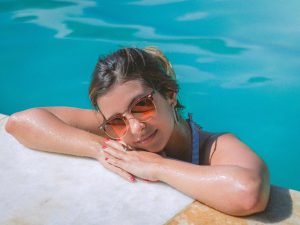 Taking a dip in a swimming pool is a great way to stay cool during the summer. While you might believe no harm will come if you swim in clean water, it can be bad for your teeth. Believe it or not, the chemicals used to kill pathogens in the water can damage your smile. You can still enjoy a refreshing swim by following a few simple tips from your dentist.
Chlorine and Your Dental Health
The American Chemistry Council reports chlorine added to water significantly reduces hazardous germs that can make you ill. Although you may not know it, chlorine is added to tap water; however, it isn't enough to cause dental damage. Unfortunately, doing laps in your local swimming pool that uses chlorine can affect your teeth.
Chlorinated hot tubs and pools can cause enamel erosion because of their pH levels. While you probably don't swim with your mouth open, your teeth can be exposed to the water occasionally. If you visit a local pool a few times a year, you probably don't need to worry about chlorine eroding your enamel, but if you take daily swims, your teeth can suffer the consequences of high pH levels.
The Centers for Disease Control and Prevention recommends pools and other treated water have pH levels between 7.2 and 7.8. The concentration of chlorine should be at least 1 part per million in pools and 3 parts per million in hot tubes.
If you routinely go for a swim, you may not notice the complications of enamel erosion immediately. Instead, it's a gradual process that can cause several symptoms, including:
Tooth discoloration.
Edges of your teeth looking transparent.
Tooth sensitivity.
Protecting Your Teeth from Chlorine
Since chlorine levels can't be spotted with the naked eye, how can you protect your smile from chlorine? Your dentist has a few tips to safeguard your smile:
Check the pool linings, railings, and ladders for erosion. Water that is too acidic will damage the materials and can have the same effect on your teeth.
Purchase pH strips to test the water before jumping in.
If you have a home pool, check the pH balance at least once a week.
Limit how often you swim in chlorinated water.
It's also important to practice good oral hygiene to combat the effects of chlorine. It's best to brush your teeth at least twice a day. Fluoride toothpaste can help strengthen your enamel to protect against erosion. Don't forget to floss daily as well.
If you have any concerns about swimming in chlorinated water, discuss them with your dentist during your next cleaning and checkup. They'll create the personalized plan you need to enjoy your favorite activity without leaving a lasting mark on your smile.
About Dr. Christine Root
Dr. Root earned her dental degree at the Indiana University School of Dentistry and has completed advanced training in implantology and orthodontics. She is a proud member of various dental organizations, including the Academy of General Dentistry. Dr. Root strives to provide the services her patients need for optimal oral health. Contact our office today to schedule an appointment.