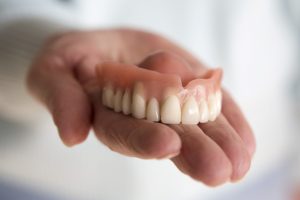 Dentures look and feel more realistic than ever. Advanced technology and new materials allow them to fit your mouth like a glove while looking and functioning like real teeth. However, if your pearly whites start slipping or irritating your gums, it might be time to consider a denture adhesive in Marion for added stability. There are countless products on the market, but not all will be right for you. Here's how to choose the best adhesive, so you'll never have to worry about your teeth falling out.
Do I Need a Denture Adhesive?
Your dentures are carefully designed to rest on top of your gum tissue. Suction is all that's needed to hold them in place. However, some people have anxieties about their dentures moving when speaking or eating. Without the right maintenance, dentures can lose their snug fit, causing slipping and irritation.
Whether you have a speaking engagement or your dentures are slipping, an adhesive can keep your teeth in place. You won't have to worry about them moving, but it shouldn't be a long-term solution if your dentures aren't fitting well.
What Type of Adhesive is Best?
There isn't one adhesive that works for everyone because each mouth and situation are unique. It may take a bit of trial and error to find the right one for you, which can include:
Creams
Creams provide an all-day hold while sealing out 74% of food particles. It's easy to apply, but it can take a few tries to determine the ideal amount for your smile. A cream can stabilize your denture while adding a layer of cushion for extra comfort.
Powders
Adhesive powders can last for about 12 hours, so you can speak, smile, and laugh with confidence. Zinc-free powders are easy to use and are effective after determining the right amount.
Strips
Many people prefer strips because they are easier to use than powders and creams. Pre-cut strips provide the correct amount of adhesive for all-day security.
Stabilize Your Smile Today
An adhesive can give you peace of mind and confidence to go about your day. However, if you are using the adhesive to stop slipping or irritation, you should also schedule an appointment with your dentist. Your denture may need to be relined or replaced to stabilize your smile and keep your mouth healthy.
If you're interested in eliminating slipping and irritation for good, ask your dentist about adding the security of dental implants to your smile. You'll enjoy the next best thing to your real teeth using a method that can last for decades.
About Dr. Christine Root
Dr. Root earned her dental degree at the Indiana University School of Dentistry and has completed continuing education in implantology and orthodontics. She is a member of various professional organizations, including the International Congress of Implantologists. If your dentures are slipping or you're interested in dental implants, contact our office today to request your consultation.