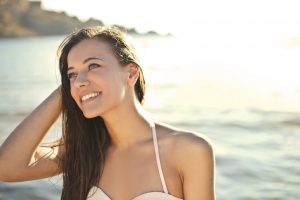 Everyone deserves to have a beautiful smile that they are proud to share with the world. However, many adults are embarrassed by the way their teeth look. Whether you are unhappy with stains, chips, or gaps, your cosmetic dentist in Marion can create the smile of your dreams. Here are 3 popular cosmetic treatments to boost your self-esteem just in time for summer.
1. Porcelain Veneers
Porcelain veneers can transform your smile drastically after just 2 appointments. A veneer is a thin shell applied to the front surface of a tooth to improve its shape, color, and size. When applied to the teeth visible when smiling, veneers can cover several imperfections simultaneously. You won't need multiple procedures to resolve stains, chips, or gaps for a cost-effective solution. The minimally invasive procedure will give you a confident, attractive smile with results that can last for 10 years or more with the right maintenance, like brushing and flossing.
2. Dental Bonding
Dental Bonding provides a quick fix for minor restorative and aesthetic issues, like chips, decay, or exposed tooth roots. A composite resin is shaded to match the color of your enamel to blend in with your tooth. Only a trained dental professional will be able to tell it isn't part of your natural smile. After just one appointment, you won't have to hide your teeth when taking vacation pictures or chatting with friends. If you want a stunning smile in a hurry, dental bonding may be right for you.
3. Teeth Whitening
You can have a smile as bright as the summer sun with teeth whitening. A professional whitening treatment can get your teeth up to 8 shades whiter in a single appointment. However, if you prefer the convenience of an OTC product, your cosmetic dentist can give you a take-home kit. They'll give you everything you need to resolve stains and discoloration. You'll use the kit daily for 2 weeks to achieve in-office results from the comfort of home. Your teeth can stay bright and beautiful for several months to many years, depending on your aftercare routine. If your smile begins to fade, your dentist can provide you with a touchup kit.
Get Your Smile Ready for Summer
You don't have to spend another summer feeling insecure about your smile. Your cosmetic dentist will examine your mouth and learn more about your goals to create a personalized treatment plan. They'll find the solutions you need to turn your dream smile into reality. Schedule your consultation today to look and feel your best for the summer.
About Dr. Christine Root
Dr. Root earned her dental degree at the Indiana University School of Dentistry and has completed advanced training in dental implants and orthodontics. She is an active member of various professional organizations, including the American Dental Association and the Academy of General Dentistry. If you are ready to invest in a radiant, confident smile, contact our office today to request your consultation for cosmetic dentistry.